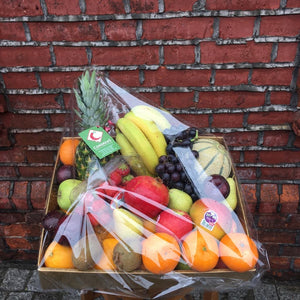 Fruit Basket (Gift)
Un-decided on a gift for a friend or family member ?  You cannot go wrong with a selection of fresh fruit!
Contains:  Apples, Oranges, Satsumas, Bananas, Kiwi, Pears, Grapes, Pomegranate, Mango, Pineapple, Melon and Berries.
Packed in a lovely dislpay, wrapped in a cellophane wrapper and bowtie added.